Healthcare Spotlight: Demand Marketing
B2B healthcare marketing and sales leaders are using proven best practices to drive demand generation and business growth
Strong cross-functional alignment between marketing and sales is foundational to accelerate productive demand generation, nurturing and revenue growth
Successful demand marketing processes and results contribute to more positive perceptions of marketing value
Editor's note: This is the first in a series of blog posts that describe how B2B healthcare leaders are driving results with innovative marketing, sales and product strategies. Although the approach of each blog post may vary, the concept is consistent: examining what's really working for B2B and B2B2C healthcare leaders today, on the basis of SiriusDecisions clients' priorities and progress.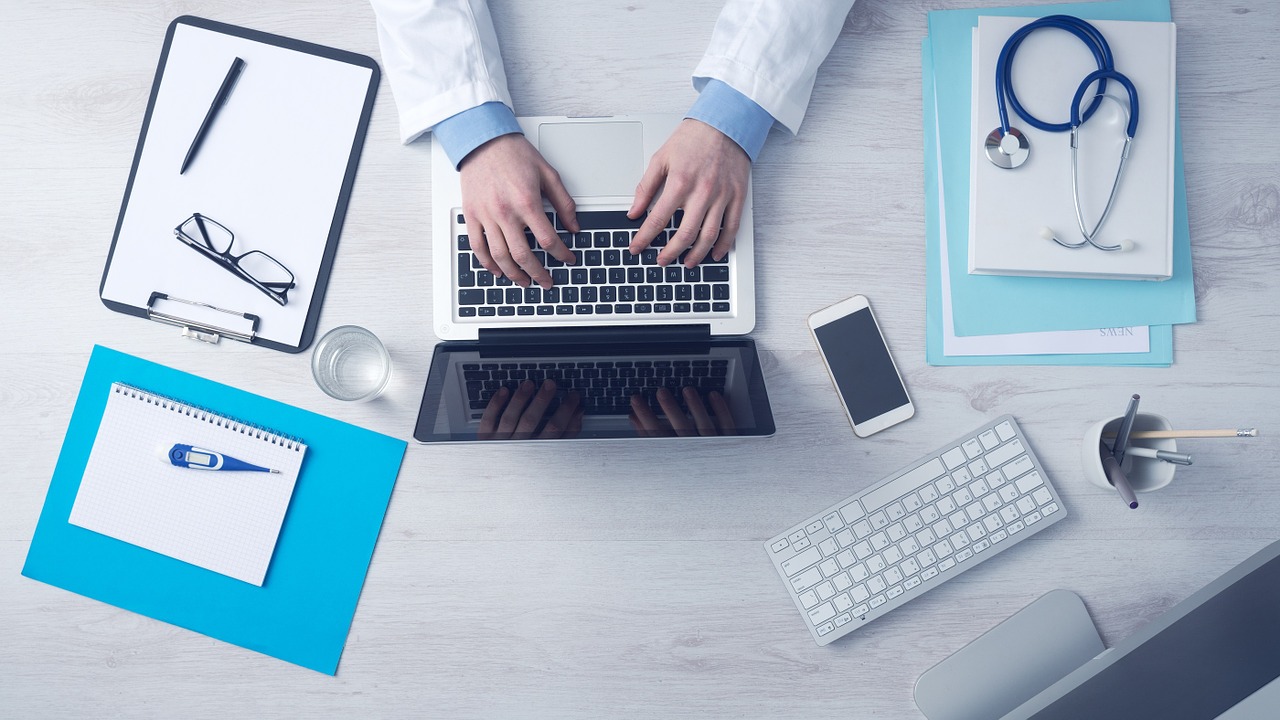 Demand marketing is one of the major areas of opportunity in which SiriusDecisions has seen organizations achieve success. Once an organization has developed offerings that B2B buyers need and has a sales force ready to sell to those buyers, demand marketing initiatives are the program family within B2B campaigns that engages and nurtures buyers and generates opportunities for sales to qualify and convert. Successful demand marketing processes and results also contribute to more positive perceptions of marketing value.
When B2B healthcare organizations focus on demand marketing, this approach fits well with a broader positive trend – the transformation of high-performing healthcare marketing teams from cost centers churning out glossy brochures and clever ads to strategically aligned business partners responsible for helping drive corporate growth with their sales peers. Moreover, consolidating providers and payers are becoming more selective about which vendors they partner with. In this challenging environment, marketing and sales must have highly aligned demand management processes to drive new logo growth, upsell and cross-sell of their customer install base.
The overall client priorities that SiriusDecisions addresses in the realm of demand marketing include demand strategy and modeling, program design and activation, revenue engine optimization, demand functional design and development, technology and services for demand, and digital trends and innovative techniques. Examples of specific demand marketing initiatives with which our healthcare clients have succeeded include:
Implementing stronger lead management and scoring processes and sales force and marketing automation. SiriusDecisions Command Center® and benchmark data reveals that organizations that effectively qualify leads before sales handoff generate a fourfold increase in sales pipelines. GE Healthcare, for example, faced a consolidating market, new regulations, and evolving provider and patient relationships. Its marketing function knew it needed to enhance alignment and develop a more cohesive go-to-market framework across the organization. By working with SiriusDecisions and deploying the SiriusDecisions Demand Waterfall

®

, GE Healthcare was able to implement a stronger lead management and scoring process – resulting in more qualified leads – and further develop its automation system to foster a customer-centric process.
Increasing marketing-sourced pipeline for sales to target. Tight alignment between marketing and sales on lead definitions, qualification criteria and service-level agreements (SLAs) is critical for productive demand generation and management. For example, a contract development and manufacturing organization (CDMO) to the pharmaceutical and biopharmaceutical industry needed to improve alignment with sales to increase marketing-sourced opportunities, drive more efficient demand generation and improve the quality of sales pipeline growth opportunities. This CDMO worked closely with SiriusDecisions to implement our rearchitected Demand Waterfall to include its telequalification process and operationalize a consistent process between marketing and sales. The results featured a 732 percent increase in marketing-sourced opportunities entering the sales pipeline. For every $1,000 of marketing spend, the amount of marketing-sourced opportunities in the pipeline increased sixfold, rising from $7,000 to $44,000. In 2018, marketing sourced 56 percent of the sales pipeline, up from just 15 percent in 2015.
Precisely targeting key account penetration and growth between marketing and sales. More advanced healthcare organizations are beginning to leverage SiriusDecisions' Demand Unit Waterfall™. Instead of looking at individual leads, the Demand Unit Waterfall manages demand units – B2B buying groups of personas with a common need for an organization's products. Imprivata, a health IT company targeting hospitals with security software, decided to focus on penetrating and growing 5,500 hospital systems. It started with limited visibility of its existing presence and growth potential in each sales rep's territory. Marketing and sales pursued a strategy of precision segmentation to put together buying groups – first hospital systems, then target accounts, then key buyer personas within target accounts and how they vary by product. With the target buying groups and personas defined, Imprivata deployed the Demand Unit Waterfall with better-focused messaging, campaigns and sales enablement. As a result of this initiative, year-over-year average bookings increased by 38 percent, marketing pipeline contribution increased by 80 percent, marketing qualified lead conversions to sales opportunities increased by 39 percent, and 32 percent of personas in Imprivata's database were updated with a continual data cleanse and augmentation process.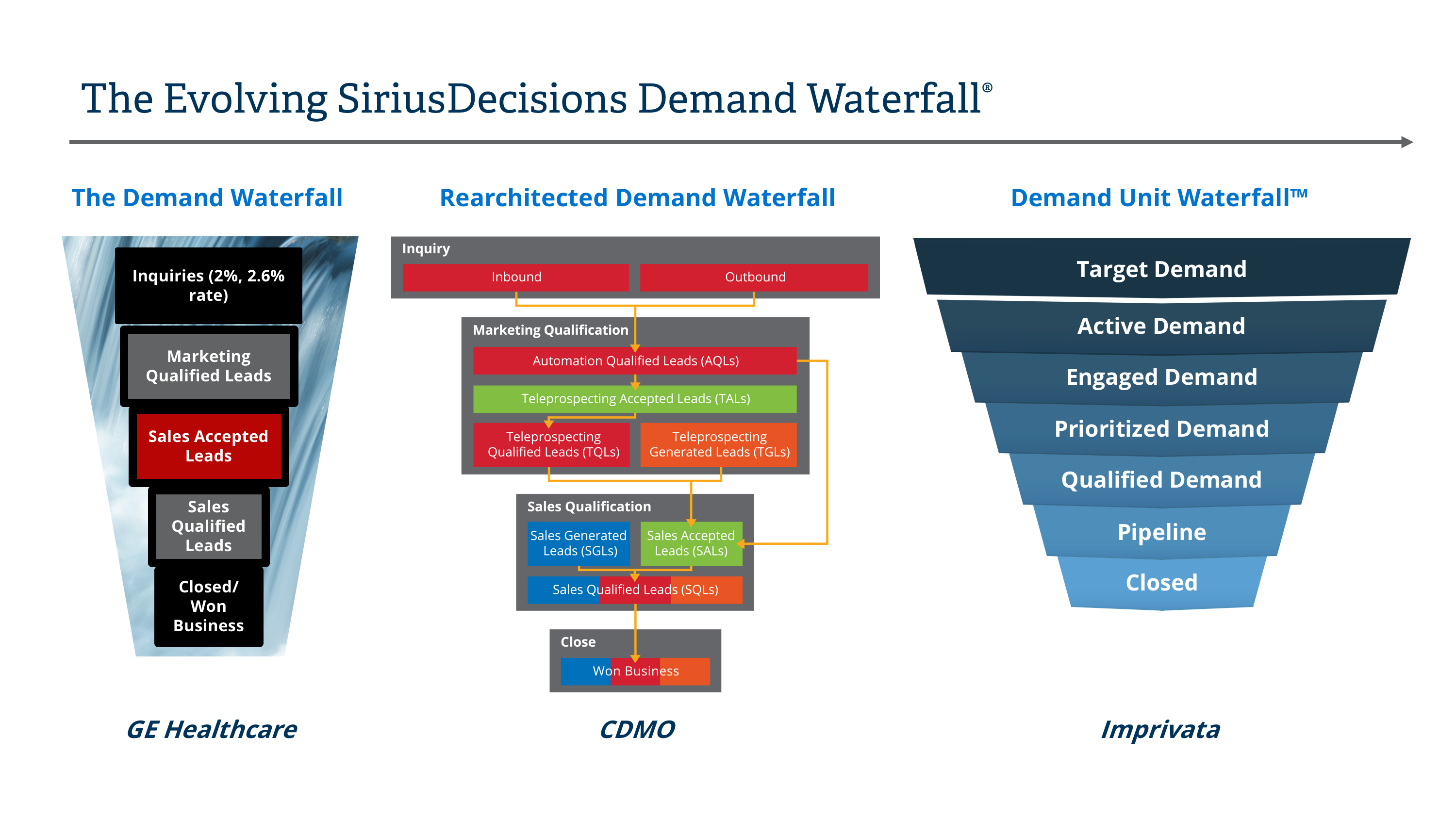 Mark Erwich, Imprivata's VP of marketing, stated, "With the Demand Unit Waterfall, not only can we look at the success of marketing campaigns, but we can closely monitor our progress in account penetration. I am now excited about the alignment these metrics bring to connect with the sales organization. We speak the same language."
As these examples indicate, achieving efficient demand generation, nurturing and pipeline acceleration requires precise alignment and SLAs between marketing and sales and a 
robust Demand Waterfall process
, facilitated by effective use of sales force and marketing automation technologies. Paying close attention to the Demand Waterfall – whichever evolution your organization uses – is crucial for driving better alignment between marketing and sales, which results in more productive revenue growth.
When assessing the current state of demand marketing in your organization and considering what improvements to make, we advise organizations to think evolution, not revolution: Start by establishing a consistent and productive demand engine, then keep looking for improvement opportunities as you continue to gain more experience and evolve.