Healthcare Spotlight: Healthcare Pricing and Packaging — Moving to Value-Based Subscription Pricing
Healthcare organizations realize higher revenue and profit when their pricing and packaging reflect value offered to their buyers
Most organizations lack a consistent, repeatable process to develop value-based pricing and packaging
The SiriusDecisions Pricing and Packaging Blueprint is a four-phase process for developing pricing and packaging that supports organizational growth and profitability goals
This is the eighth in a series of blog posts that describe how B2B healthcare leaders are driving results with innovative marketing, sales and product strategies. Although the approach of each blog post may vary, the concept is consistent — examining what's really working for B2B and B2B2C healthcare leaders today, on the basis of SiriusDecisions clients' priorities and progress.
With more health IT, medical device and contract research organizations moving from on-premises to recurring revenue solutions and needing to prove ongoing value-based care, it's imperative for healthcare organizations to consider their pricing and packaging approaches. For B2B healthcare organizations, pricing and packaging involves more than simply creating a few bundles and choosing plausible price points. It requires a step-by-step process designed to increase revenue and profit within a specific target segment.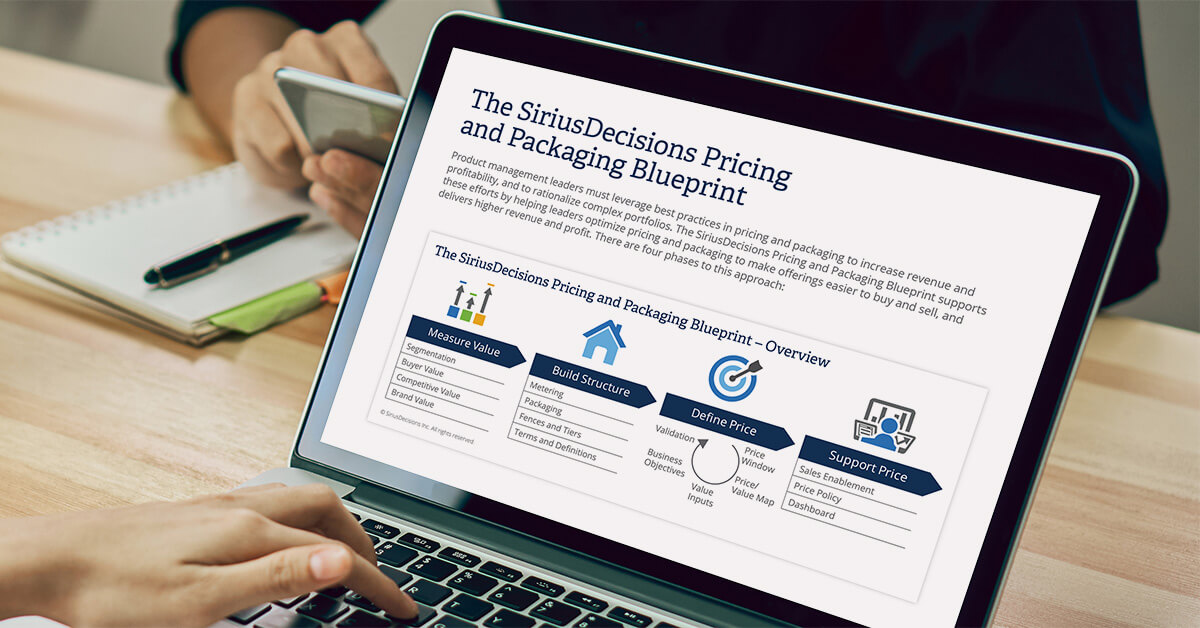 The SiriusDecisions Pricing and Packaging Blueprint is a four-phase process for developing pricing and packaging that supports organizational growth and profitability goals. The blueprint includes four phases, with steps in each phase designed to provide offering packaging that is easier to buy and sell, and pricing that is tailored to each buyer segment:
Phase One: Measuring Value: Segmentation, Buyer Value, Competitive Value and Brand Value
Phase Two: Building Structure: Metering Approach, Packaging, Fences and Tiers, and Terms and Definitions
Phase Three: Defining Price: Price Window, Value/Price Mapping, Value Inputs, Business Objectives, and Validation
Phase Four: Supporting Price: Sales Enablement, Price Policy and Dashboard
Using the SiriusDecisions Pricing and Packaging Blueprint to Guide Pricing Research: An Example
A compelling example of pricing and packaging improvement occurred at Imprivata, a $150 million health IT security firm that markets to hospital systems and integrated delivery networks.
Imprivata had a specific offering that it had not charged for, and the organization was seeking to understand potential customer response to price points for this offering. Using the SiriusDecisions approach to customer interviews and quantitative testing for willingness to pay, Imprivata found that buyers were accepting of a price for the offering and that it could monetize this offering. The company used the SiriusDecisions Pricing and Packaging Blueprint to guide not just the pricing research but also best practices for transitioning offerings from perpetual to subscription models. Imprivata's new offering was launched with a customer-tested subscription approach. The offering and new pricing were well accepted by the market, with bookings surpassing goals by more than 80%.
If you want to improve growth and profitability for your new products, here are some initial steps to take:
Assess the current state of your pricing process against industry best practices to determine what activities/deliverables are being skipped or are not getting the focus they need.
Align around a consistent process that focuses on measuring value, building pricing structure, defining price and supporting pricing implementation.
Create a guide and toolkit/playbook to ensure people are able to follow the process going forward.