Healthcare Spotlight: Transforming from Product to Audience Centricity
Healthcare (B2B) organizations often over-rotate on existing buyers and market segments and miss the steps needed to understand new buyers and segments and improve growth and customer-centricity
The SiriusDecisions Product Marketing and Management (PMM) Model provides a best-in-class framework to improve marketing, sales and product alignment and commercial success
The SiriusDecisions PMM Model can be used as a diagnostic tool to identify crucial missing steps in the innovation, go-to-market and product launch processes to achieve new product financial goals
This is the seventh in a series of blog posts that describe how B2B healthcare leaders are driving results with innovative marketing, sales and product strategies. Although the approach of each blog post may vary, the concept is consistent — examining what's really working for B2B and B2B2C healthcare leaders today, on the basis of SiriusDecisions clients' priorities and progress.
The SiriusDecisions 2019 Global CMO Study revealed the top growth strategy of marketing leaders at B2B organizations in the healthcare industry: marketing to new buyers and new buying groups. However, respondents to our product management study also reported that their organizations spend nearly one-half (46%) of their development budgets on products targeted to current buyers in their existing markets.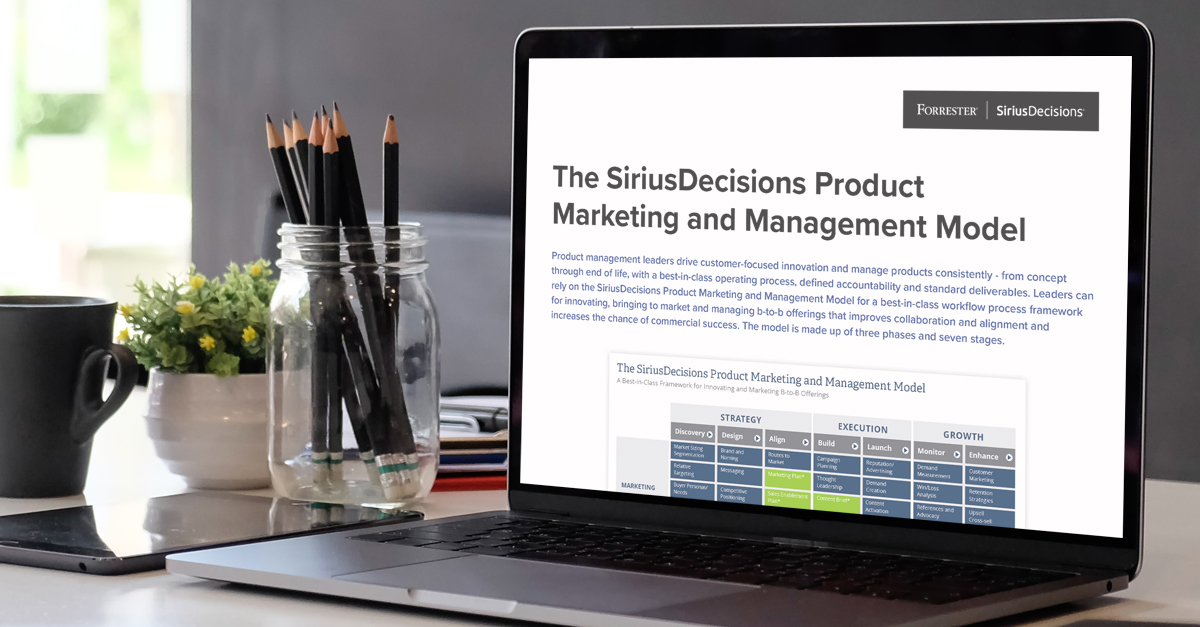 For both of these scenarios, taking an audience-centric approach is essential to adapting products and how they are marketed to the right buyers. Unfortunately, many product managers and marketing and sales leaders assume that what works for one segment works for all. Organizations must apply a consistent methodology to develop and launch offerings in a way that meets the needs of the right audience of prospective customers.
The SiriusDecisions Product Marketing and Management (PMM) Model is a best-in-class innovation and go-to-market framework that improves alignment between the sales, marketing and product functions and the commercial success of existing and new products and services. The PMM Model includes three innovation lifecycle phases: strategy, execution and growth. Each phase's activities are grouped by functional category — marketing, product and sales — with key process outputs identified within each phase.
Using the PMM Model to Increase Audience-Centricity: An Example
Parexel, a $2.1 billion firm, is one of the largest clinical research organizations globally. It has played a role in developing nearly 95% of the top-selling pharmaceuticals on the market today with services that help develop and commercialize products in the biopharmaceutical and medical device industries.
However, Parexel was missing a comprehensive market-focused innovation and go-to-market process, causing new offerings to miss the mark. For example, when it launched a new genomics research service to help pharmaceutical firms with their drug development and approval processes, its sales reps struggled to identify whether buyers had such a need and when to bring it up during sales calls. As a result, the new product was not meeting its objectives.
The Parexel team worked with SiriusDecisions with the goal of creating a better process. They began by using the PMM Model as a diagnostic tool to identify what had been missed during the innovation and go-to-market efforts for their new genomics service. Through this exercise, the team realized that some activities early in the strategy phase had been omitted. For example, no significant work was done to target any specific segment, leaving sales and marketing efforts and resources stretched across all audiences and segments.
The team also had not considered demand type or how disruptive the new genomics offering would be to the market. Because the demand type was identified as new paradigm, it required more evangelistic messaging to make potential buyers aware of the benefits this new service offered. In addition, it was discovered that this offering targeted a new buyer persona, requiring changes to sales enablement materials and messaging.
Once these gaps were identified, Parexel worked with SiriusDecisions to adapt the PMM Model to create a customized audience-centric process called the Product Management Playbook. The playbook ensured key activities were part of the process and that functional owners were assigned to each area. To drive adoption of the new process, Parexel created a centralized repository to house tools, templates and worksheets with guidelines for best practice implementation. Parexel is now using the Product Management Playbook approach across a wide range of innovation initiatives.
If you are looking to improve the innovation and go-to-market process and the commercial success of new products in your organization, consider the following initial steps:
Assess the organization's current process against industry best practices to determine if activities/deliverables are being skipped or not getting the focus they need.
Align around a consistent process that focuses not only on the product management and product development activities, but also marketing, sales and other functions involved in innovation and go-to-market processes.
Create a guide and toolkit or playbook to ensure people can follow the process.
For more information on the SiriusDecisions PMM Model, please click here or learn more at DemandRevenue.com